Share your photographs...
We would love to feature your photographs on our equipment pages to help inspire others. We respect your copyright. Sharing is easy, just send us a link to your image on social media or your own website and remember to tell us about the following:
State that you own the copyright
---
Give us permission to use it
---
Include a link to your your web space
---
Include a caption for the image
---
Tell us about the equipment used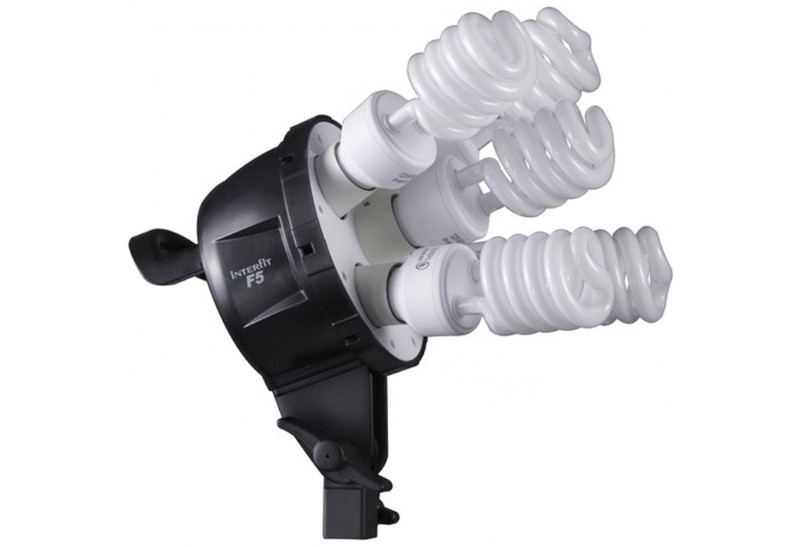 Upload date: 2020-03-18 Caption: Interfit F5 Two-Head Fluorescent Lighting Kit, © Interfit
Review this item...
Tell us how you would rate it overall:
There are no reviews for this item
Manufacturers website: CLICK HERE
Key Features: Interfit F5 Two-Head Flourescent Lighting Kit
Create an endless array of captivating and dramatic photos and videos with the Interfit F5 Two-Head Fluorescent Lighting Kit! The F5 is a cool-running continuous light source that combines ease of use and versatility to provide a powerful lighting tool for your personal studio. Simple, effective and economical, Interfit's F5 two head kit sheds 1600 Watt-equivalent of 5600K light and is well-suited to a wide range of professional studio applications. The kit is perfect for anyone looking for reliable, quality continuous lighting at fantastic value. The F5s also make for excellent fill lights, for shaping your images.
Each F5 head features five 32w fluorescent lamps that can be switched on and off individually, or in sets of 2, to create a wide range of lighting ratios. With 800 equivalent Watts of power in each head, the F5 provides plenty of light for home and pro studios. The included softboxes come with a removable diffuser for an even softer light quality.
Every F5 kit includes a pair of standard 2.3m (7.5') air-cushioned light stands (COR750). Air-cushioning prevents the stand from crashing down and helps to protect the lamps.
Energy efficient fluorescent lamps
5600k daylight colour temperature
1600 Total Watt equivalent power output
Remains cool to the touch
Includes Lightstands and Softboxes
| Attribute | Value |
| --- | --- |
| Included Accessories: | 2x Heads, 10x 32W Fluorescent Lamps, 2x Power Cables, 2x 50x70cm Softboxes, 2x 2.3m Light Stands |
| Number of Heads: | 2 |
| Power Source: | 240v |
| Size: | 25.4 x 16.5 x 16.5cm |
| Wattage: | 320 |
| Weight (g): | 600 |