Share your photographs...
We would love to feature your photographs on our equipment pages to help inspire others. We respect your copyright. Sharing is easy, just send us a link to your image on social media or your own website and remember to tell us about the following:
State that you own the copyright
---
Give us permission to use it
---
Include a link to your your web space
---
Include a caption for the image
---
Tell us about the equipment used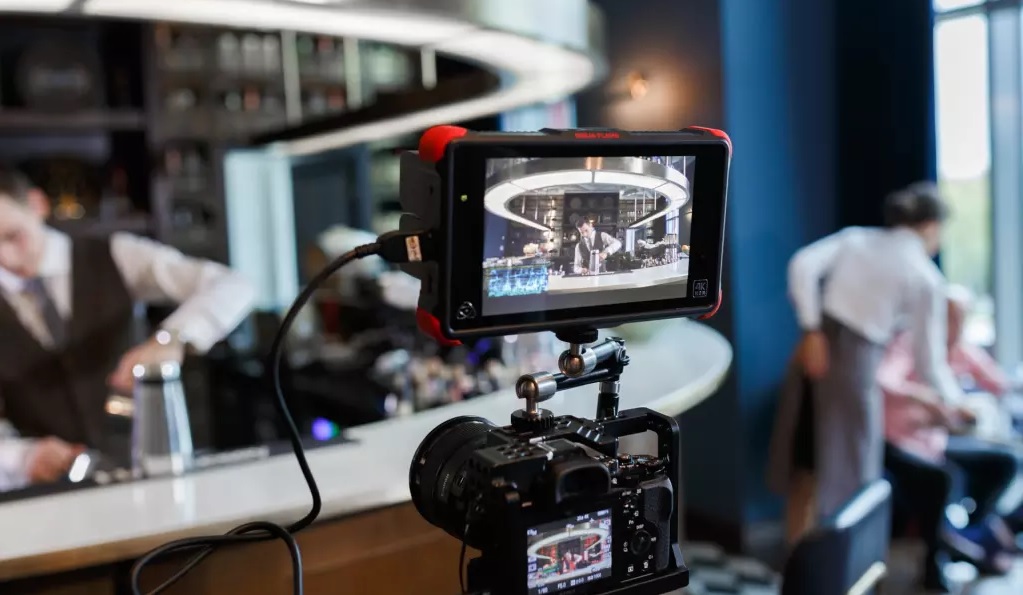 Upload date: 2017-12-18 Caption: Atomos, © Atom
Review this item...
Tell us how you would rate it overall:
There are no reviews for this item
Manufacturers website: CLICK HERE
Atomos 4.3" Ninja 2 Video Recorder (Full Version)
The Full Version of the Atomos Ninja 2 Video Recorder is an HDMI recorder built into an 800 x 480 resolution monitor that records up to 1080/30p/60i resolution directly from your camera's sensor. It records to an optional HDD or SSD in using Apple's ProRes or Avid's DNxHD edit-ready codecs. The Ninja 2 supports 10-bit 4:2:2 color sampling for vivid images superior to most DSLR internal recording capabilities, and you can still record 8-bit video to the Ninja 2. Built-in exposure tools such as false color and zebra bars provide useful aids in exposing your footage, while the built-in focus peaking tool can alert you to out of focus shots may be difficult to see on an on-camera monitor.
The 4.3" touchscreen features a resistive touchscreen that functions using pressure, this allows you to operate the touchscreen with your fingers, even while wearing gloves, which is important when working in the cold. The Ninja 2 incorporates anti-shock technology that allows you to continue to record even if your HDD skips a few frames from being jarred. The Master Caddy system allows you to choose to use optional 2.5" HDDs or SSDs with your Ninja 2. SmartLog editing tools allow you to mark selects during playback or recording, and can save you time when you go to edit. It includes two master drive caddies. a docking station that offloads these drives to your computer via USB 3.0/2.0, as well as a Sony-type NP-F570 battery, charger, AC adapter for continuous power, Canon LP-E6-type battery adapter, and a Nikon EN-EL15-type adapter.
10-bit 4:2:2 / 220Mbps / 2.5" HDD or SSD
The Ninja-2 supports HD or SD sources and encodes it in real-time to 10-bit, 4:2:2 Apple ProRes or Avid DNxHD at up to 220Mbps.
Recording is always in 10-bit, even from an 8-bit source. Color registries are added for integration into higher bit-depth graphics from CG, animation and special effects. This helps avoid banding in your footage, even if your source is 8-bit.
One-Touch
Access all of the Ninja 2's operations via the fast, responsive touch interface -- everything is only one touch away: one-touch recording, one-touch monitoring, one-touch review, etc.
Volume Display
Lets you adjust the volume of the professional quality headphone amplifier.
Audio Meters
Touch audio meters to adjust 4 channels of audio.
Current Input Format
Displays native format from source signal, for example -- 1080i 59.94.
Recording Format
Select the variety of ProRes or Avid DNxHD codec you are recording to /
Avid DNxHD-220X (10-bit), DNxHD-220 (8-bit), DNxHD-145 (8-bit), DNxHD-36 Proxy (8-bit) + all ProRes options.
Continuous Power Battery Indicator
Shows which battery is currently being used to power the Ninja 2. You are free to replace the one that isn't being used, the active battery slot is illuminated in orange.
Timecode
Choose between On Board, Time of Day, Record Run or Auto Restart timecode modes or utilize external timecode from camera or any source input.
Unit Name
Name your Ninja 2 by project or camera. Media drives and recorded files are subsequently named with the unit name upon formatting.
Time Remaining
Shows remaining record time. Remaining time is calculated dynamically and is based on the bitrate of the current recording format and the memory capacity of the HDD/SSD in use.
Inputs / Outputs
HDMI input & output
SmartMonitor
Accurately assess focus and exposure with:
Focus Peaking
Adjustable Zebra
False Color Twin Mode
Blue Only - exposure check
Control - adjustments for individual filters
SmartLog
SmartLog
Log in and out points on your footage and tag these clips with keywords such as 'good shot', 'bad shot' etc.
With the Ninja 2 this part of the post production process can now be done on set, or on the move.
Master Caddy Slot
Simple, locking HDD/SSD system / a safe, practical solution to media management.
HDD or SSD
Choose from optional inexpensive 2.5" hard disk drives (spinning disks) for 90% of projects and Flash-based SSDs for rough terrain or high security use.
A 750GB/5400rpm drive holds up to 16 hours of high quality Apple ProRes footage.
UPC: 853815005049
G-Technology Atomos Master Caddy HD (1TB)
A robust media solution designed for Atomos recorders, the G-Technology Atomos Master Caddy HD contains a 1TB hard-disk drive capable of recording and storing HD video. Shaped like a standard Atomos drive caddy, the Master Caddy HD will be compatible with any Atomos recorder that uses Master Caddys, including those in the Ninja, Samurai, and Shogun series. When video needs to be transferred, simply insert the Master Caddy HD into the separately available ev|Series Reader specially designed for the Master Caddy 4K and offload files at speeds up to 136 MB/s.
UPC: 705487203400
G-Technology ev|Series Reader Atomos Master Caddy Edition
Seamlessly incorporate Atomos media into your storage workflow with the G-Technology ev|Series Reader Atomos Master Caddy Edition. Whether using standard drives ho